Ridgely's Gala
Thursday, August 17, 2023 - 6:00pm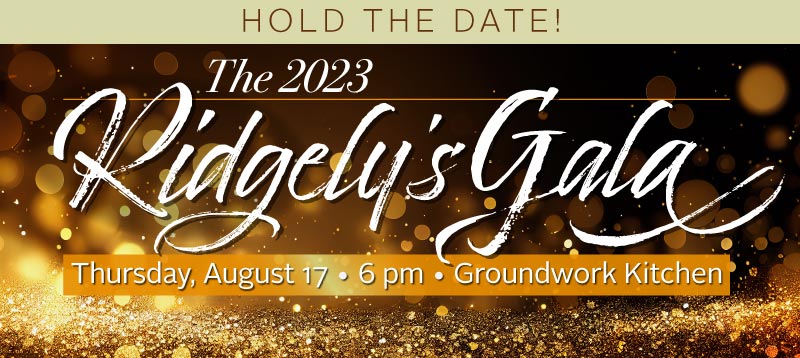 Join your neighbors for a night of drinks, dinner, dancing and learning at the 2023 Ridgely's Gala!
The Ridgely's Gala is a fundraiser for the Ridgely's Delight Association (RDA). This year's event features a dinner prepared by Groundwork Kitchen, drink tickets, a special program by Baltimore-based historian Evan Woodard, and a dance party with Baltimorean DJ Damian Voss Lang.
The event will take place on Thursday, August 17, at Groundwork Kitchen. Tickets are $85 and are available at 2023ridgelysgala.eventbrite.com.
Proceeds from the event will be used to provide our programming throughout the year including community events in Conway Park, children's activities in the tot-lot and others.
Where: Groundwork Kitchen, 925 Washington Blvd
When: Thursday, August 17, Starting at 6 pm
Tickets: $85 per person advance, online only
Attire: 'Summer wedding'
To see a collection of photos from last year's Gala visit click here.
Evan Woodard, founder of Salvage Arc, is a Baltimore-based photographer, adventurer, and history lover, whose fascination with the forgotten started at an early age. His youthful curiosity in abandoned and dilapidated sites led to amazing adventures all around Baltimore City. His love of history has taken him to some of the city's most hidden and forgotten places, where he has uncovered a wealth of stories about the past.
Evan's passion for history and adventure keeps him going. He believes that these forgotten places and artifacts are valuable parts of our city's heritage, and he is committed to sharing their stories with us. 
Groundwork Kitchen is a full-service, fine dining restaurant offering a free culinary training program for individuals interested in a career in hospitality. It was created to transform lives, disrupt poverty and offer life skills and career training to nourish the community through food.
DJ Damian Voss Lang will be spinning his signature style of house funk fusion throughout the evening. The son of renowned Afro-Cuban dummer, Burton Lang, Damian Voss Lang is a also a classically trained cellist who has performed in the California Symphony. Taking inspiration from many genres and musicians, prepare to go on a musical journey.